What Are Stud Rails?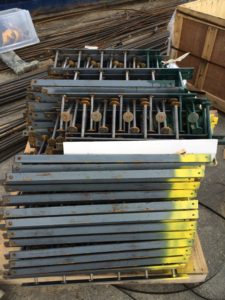 In a previous article, we discussed what Punching Shear is and what changes can be made to a slab design to mitigate it.  We've also previously discussed reinforcement being used to hold parts of the slab together when the concrete's strength isn't enough. 
Traditional rebar layouts (straight bars at the top of the slab) do very little to prevent punching shear, which means that engineers have developed a number of other solutions in order to make sure that the reinforcing steel goes where it's needed the most.  These include bars that have a diagonal offset bend in them, miniature beams, pre-bent high-strength steel straps, and plates with welded-on studs.  All of these have their own quirks, but jobsite placement and coordination make rebar options difficult to control, and the pre-bent steel straps are designed to go in last – which means if they don't fit, adjustments are now an emergency.  This leaves the welded plates, which are generically called stud rails.  Stud rails are installed immediately after the deck is formed, meaning that the more flexible components of the slab (post-tension tendons, rebar and conduit) can be worked around their installation. 
Stud rails start as a strip of commodity steel, selected based on the size of the welded-on studs.  A small stud doesn't require much in the way of anchoring strip, but a large stud needs a substrate that can carry as much load as the stud can.  The studs are specified by the structural engineer in diameters ranging from 3/8" to 3/4″, and have a head forged on one end to match the capacity of the welded connection on the other.  The structural engineer picks a spacing based on his loads, with tighter spacings offering mor capacity, and a number of rails at each column, again with more rails providing more capacity.  While these rails are bespoke by necessity, the manufacturing process means that rails are surprisingly inexpensive on a per-piece basis. 
Previously, we've discussed that post-tension slabs are thinner than their conventionally-reinforced counterparts.  This means that post-tension slabs generally have more issues with punching shear than similarly loaded conventional slabs, and as post-tension material suppliers we frequently need to also supply stud rails for our projects.  We've formed partnerships with a variety of certified manufacturers to control cost and manufacturing lead time.